Light Motive
by David Birchfield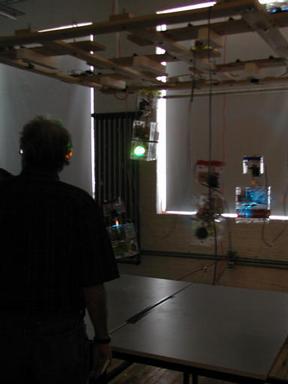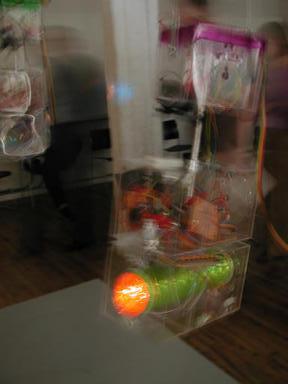 Light Motive is a collection of individual robotic 'organisms' which interact with each other and the world around them. The organisms are suspended in a group from the ceiling of the exhibition space. Each organism is equiped with a colored spotlight, an array of light sensors, a number of prisms and reflective surfaces, and a microphone with speaker. Furthermore, each organism can rotate itself to face any direction and can winch itself higher or lower in the space.
The organisms interact with one another by means of their light sensors. The goal of each organism is to have its neighbors shine their lights on its reflective array and thereby create as brilliant a light as possible. To achieve this, each organism uses its light sensors to detect from which direction light is most intense, and then raises or lowers itself and twists its body to position its reflectors in the detected beam of light.
Each organism also has a microphone mounted on its suspension wire. As the organism repositions itself, vibrations in the string are amplified to the effect that each organism 'sings' as it moves. The pitch of the singing is dependent on the organism's position in the vertical space.
Light Motive is a population of spider-like robots suspended from the ceiling, singing and twisting, rising and falling, as their searchlights probe the space. The result is an ever evolving kaleidoscope of light and sound.
David Birchfield is a composer presently in the final stages of his doctoral studies at Columbia University. He is an active member of the Computer Music Center of Columbia, and in much of his work, utilizes the computer as a compositional, theoretical, and performing tool. Before moving to New York, he earned a B.M. in composition and percussion performance from the University of Cincinnati College-Conservatory of Music. His principal composition teachers include Tristan Murail, Fred Lerdahl, Jonathan Kramer, Brad Garton, and Allen Otte.
thanks and credits:
Many, many thanks to Douglas Irving Repetto, without whose support, advice, and encouragement the realization of this project never would have been possible. Also thank you to Brad Garton and the staff of the Columbia University Computer Music Center for their support. The Grizzly International Drill Press rocks.
links:
David Birchfield
http://music.columbia.edu/~dab/hardware/lightmotive/index.php