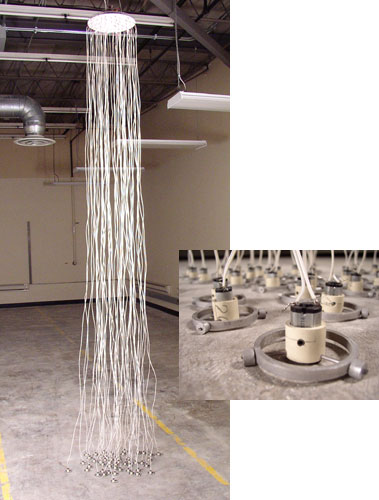 50 drones
David Bowen
Individuals become the cause of the whole and at the same time are caused by the whole. Identity is constructed through interaction from contact with others within a collective and through a relationship with a specific environment.
Observations of the ways objects in groups, or singular units, behave relative to their surroundings are a great fascination to me. The works often simulate naturally occurring functions or motions. Despite the fact that each unit within a collective group is constructed to identical specifications, they behave in subtly distinctive ways. Acting upon their limited "free will", these individual mechanisms can choose to orient themselves relative to their surroundings based on various stimuli. Individual mechanisms, which arrange themselves in an organic configuration, can be seen to represent particles in a state of disbursement, an active insect colony, or a crowd of people displacing one another.
Documentation of this activity in real time or as trace evidence of a specific interaction with other elements and environmental stimuli serves as a emphasis of these mechanisms' organic-like behavior.
50 drones consists of 50 individual aluminum and PVC units, which vibrate and interact with each other. This interaction creates spastic unpredictable behavior and a persistent buzzing noise. Each unit is tethered by a 120-inch cord that supplies it with power and limits the units' movement to a confined area. The piece is on a timer that allows it to run continuously for five minutes every hour.
---
David Bowen (1975) is a second year MFA student at the University of Minnesota where he has worked closely with the Mechanical Engineering department. He received his BFA in 1999 from Herron School of Art, Indiana University. Bowen has also exhibited his work nationally and was an instructor at Herron School of Art from 2000 to 2001.
Acknowledgements: Support for David Bowen's participation in ArtBots was provided by The University of Minnesota Art Department.