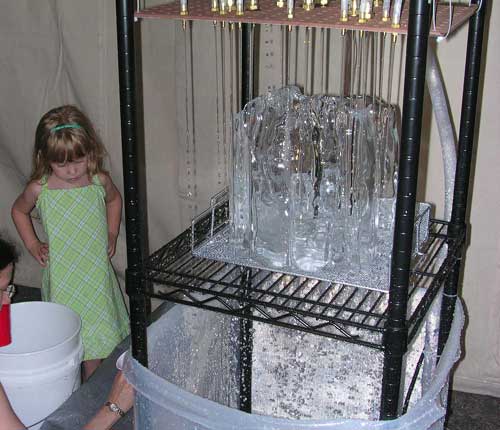 Automated Architecture Robot
Ira Spool and Anna Tsypin
Architects have often searched for a more modern, technological or up-to-date way of designing buildings. This piece explores what is possibly the ultimate direction of architectural advancement: Having a robot direct the design.
The Automated Architecture Robot creates a building design with organic, curved surfaces in one hour. The design is presented as a 1:50 scale model (Materials: Ice and light).
The robot sculpts a block of ice into an organic form using water (The water is stored and recycled by the robot). Every 10 minutes the sculpting stops and the robot's water tubes move into their "stored" positions. Doors, windows and other architectural elements are projected onto the ice with a slide projector. Visitors can influence the outcome of the sculpted architectural model by making adjustments to a large control knob. They can choose between "Palatial Home," "Discreet Home," "Mixed-Use Development," "Company Branch Office," or "Company Headquarters." The robot will do its best to create the home/office of their dreams.
---
Ira Spool and Anna Tsypin recently relocated from Brooklyn, NY to Brookline, MA. Ira is a design engineer who has worked with a number of NYC industrial design firms and other clients on such projects as the Spider Table for Herman Miller, the Pocket PC Phone for T-Mobile, and a miniature bubble machine built into the head of a life size human sculpture. Anna is an artist and designer. Her exhibited artwork has included sketches, paintings, and hand drawn animations.