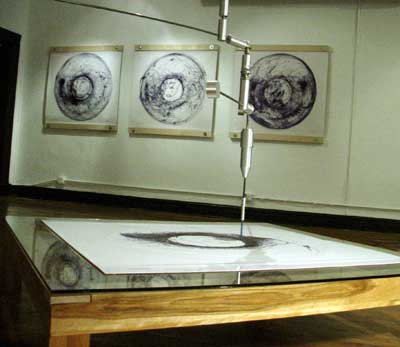 Drawing Machine 3.1415926 v.2
Fernando Orellana
(2000)
wood, aluminum, steel, glass, motor, custom electronics, slip rings, Mylar, Papermate pen
Drawing Machine 3.1415926 v.2 explores the possibility of creating machinery or systems that create art objects on their own. In this case, the machine has been designed to listen to its environment (using a series of microphones installed around the gallery) as a method for generating the drawings it makes. What it hears is interpreted by the machines software and used as the primary driver or inspiration, to make complex, non-representational drawings. Since the noise the machine hears is relative to the given event or venue, the drawings generated can be said to be the machine's interpretation or portrait of that experience. In addition to the machines random drawing method and "listening" capabilities, viewers of the piece will be able to collaborate with the machine by talking, singing, screaming or making any other noise into a near by microphone. Using several Papermate(tm) ball point pens (blue ink), the machine will generate one drawing measuring 4' x 4' over the length of the ArtBots exhibition, including at night when there are no gallery visitors present. Previous drawings that Drawing Machine 3.1415926 v.2 has made in Chicago, IL and Columbus, Oh will be on display on a near by wall.
---
Fernando Orellana was born in El Salvador, San Salvador in 1973 and immigrated to Florida in 1979. There he received his high school diploma and began university education at Broward Community College. Soon after, he moved to Chicago, Illinois where he studied at The School of the Art Institute of Chicago receiving his Bachelor of Fine Arts degree in Art and Technology.
He has exhibited in galleries nationally and internationally including, 1/Quarterly gallery (Chicago, IL.), Swanson-Read Gallery (Louisville, KY), Siggraph 2002 (San Antonio, TX), MACC Gallery (Moberly, MO), The Late Show (Kansas City, MO), Sotheby's/Artlink galleries (Tele Aviv, London, and New York), The Freeark Gallery (Chicago, IL.), Gallery 2 (The Art Institute of Chicago), The Betty Rymer Gallery (The Art Institute of Chicago), The School of the Art Institute of Chicago's BFA exhibition, The Contemporary Art Work Shop (Chicago, IL.), The EGG Gallery (Chicago, IL.), and others. He has also shown in collaboration with (art)n Laboratory at The Santa Barbara Museum of Art, Siggraph 2000/2001, Art Chicago 2000/2001, Chicago Midway Airport (Battle of Midway Monument) and others. He has received The Edith-Fergus Gilmore Materials grant from OSU (2003), The School of The Art Institute's BFA fellowship award (1998), the Koppler Grant from UIC (2000), Art Link/Sotheby's International Young Art Competition Finalist (1999), Missouri State Arts Council Grant (2001) and The Broward Community College Merit Award (1995). He has been reviewed in The Leonardo Electronic Almanac in conjunction with sine::apsis (1998), NPR (WFPL Ð FM Radio) 7min. preview segment (2002), The Pitch, KC (2001) and The Chicago Reader (2000). He has also lectured at The University of Illinois at Chicago, University of Southern California, The School of the Art Institute of Chicago, Northwestern University and Moberly Community College. He has also recently completed an Artist-in-Residency at Moberly Area Community College, MO.
He is currently a graduate student at The Ohio State University studying in their Art & Technology program, continuing his research into machine/sculpture automata, robotics, Artificial Life and painting.