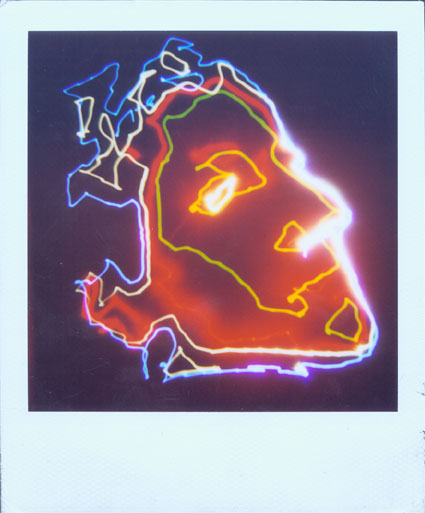 Fotron2000 (FOE-tron-too-THAU-zin(d))
Dan Paluska, Jessica Banks, jackbackrack
(2003)
very mixed media and emotions
The Fotron2000 is tomorrow's answer to today's mall photo booth. At its heart is a robotic sketch artist whose medium is LED light and whose canvas is long exposed Polaroid film. The robot draws quickly, rendering a line drawing of its subject which he or she gets to keep. The Fotron2000 "brings good things to light."
This work was inspired by the classic time-lapse nighttime highway photography, the Photoshop "glowing edges" filter, and "drawing" with sparklers. The piece is a simple exploration of the ability of a robot and a computer to automate the creation of art. We are interested in the ability to provide visitors with a permanent record of their experience and engage robotic technology in an impractical way. The robot provides us with precision capabilities beyond our own, allowing us to create in ways not possible without technological assistance.
All Fotron2000 images copyright 2003
---
Dan Paluska is a roboticist by day at Yobotics, Inc., a small research company in the Boston area. He is active in the arts and music around the Boston area. He founded the MIT student arts group ATat, which continues to hold regular events on campus featuring art and technology. He plays drums in the band Bucky Spins and hosts electronic music events with others in Unlockedgroove.
http://www.ai.mit.edu/people/leinad
Jessica Banks is mostly a Ph.D. candidate in robotics at MIT's Artificial Intelligence Lab after what now seem like short stints as an undergraduate physicist and an entertainment industry sore thumb. She views life as a long process of elimination, enjoys the sense of completion of running out of toothpaste, and refers to Dan's electronic music (see above) as "audio water torture." She intends to start up a robotic furniture company and get a real dog after she graduates.
http://www.ai.mit.edu/people/jessical
jackbackrack is a research scientist at MIT's Artificial Intelligence Lab. He is the founder of the COLLISIONcollective and in collaboration with Dan produces art/technology exhibitions at MIT called Collisions. Beyond messing with electricity, he plays and dances to traditional west African rhythms.
http://www.jbot.org
Acknowledgements: The artists would like to thank the Polaroid Collections for its contribution as well as Aaron Edsinger, Henry Kaufman, and Jeff Weber for help along the way.