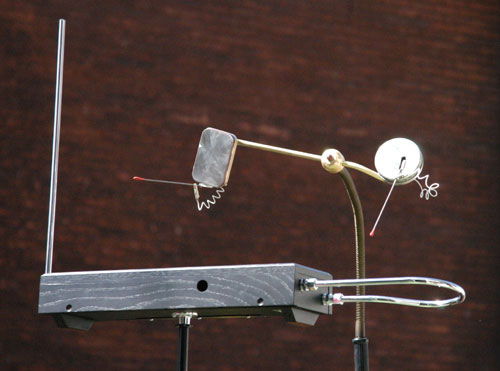 Lev
Ranjit Bhatnagar
(2003)
found objects, servomotors, carillon keyboard, custom circuitry, theremin and microprocessors
Lev is a machine for playing a theremin.
Lev is named after Lev Termen or Leon Theremin, a Russian scientist who invented one of the first electronic musical instruments, an instrument which is played without touching, and which bears his name.
Lev is made out of an old floor lamp, some plumbing supplies, a few empty mint tins, and some microprocessors.
Lev will never replace the human theremin virtuoso, although, as there are so few of the latter, a mechanical substitute may someday be vital to our economy.
---

Ranjit Bhatnagar's digital and interactive works have been exhibited internationally and occasionally since 1987. Recent works include Sketching Device #1 at last year's Artbots, Sensitive Research for SIGGRAPH 2003, some circus sideshow banners, and a sock monkey. He works at gameLab and lives in Brooklyn with a part-time dog and some cacti.