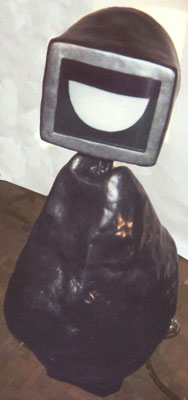 Neil
Jason Van Anden
The Smile Project is a vehicle for representing my understanding of human behavior and emotional responses. It combines all of the spheres of my experience into one being, Neil. He is empowered with the ability to "emote" through the use of physical gesture, sound and animated facial expressions. Neil represents four years of experimentation with artificial intelligence, hardware and papier-mâché.
My inspiration for creating this interactive artwork came from observing fellow members of my group therapy. The goal of our therapy is for each member of the group to try and comprehend how and why people behave as they do in order to impose logic and understanding on our own behavior and the behavior of others in the world. Fortuitously, about the same time I started therapy, I began to consider the unique potential of computer technology as a tool for expression. Initially, I explored this by creating two-dimensional video game like simulations that abstractly illustrated challenges I experienced or saw played out in the group. On a deeply personal level, I understand that the manner in which I work is a sublimation of a childhood compulsion of mine to understand (and control) my environment.
I hope the viewer experiences a new level of interaction when meeting Neil for the first time. I am personally curious to observe what will take place once this simulation is let loose to do what it will and I believe that the experience will have an enduring impact on its audience.
---

Jason Van Anden arrived in New York City in 1990, hoping to become an artist, after graduating from Syracuse University with a degree in sculpture. Shortly thereafter, he discovered that his computer programming skills could be a great way to survive while pursuing his dream. He spent most of the nineties riding the high tech wave, developing applications for a variety of clients, under his corporation Quadrant 2, Inc. In 1998 he took a break from software development to return to his original love of making art, and started upon a series of graphite drawings that would form the foundation of The Smile Project. The Smile Project combines his two greatest loves: technology and sculpting. He has used his self-taught computer skill to simulate thinking and cognition and his fine art training to give birth to Neil.
Acknowledgements:
Jason Van Anden - Artist and Software Architect
David Liatti - Electrical Engineer
Fredrick Grim - Software Engineer, Mathematician, Game Theorist
Wesley Martel - Metal Fabrication
John Wells - Mechanical Consultant
Nicholas McGaughey - Casting and Materials Consultant
Jeffery Fillipini - Software Developer