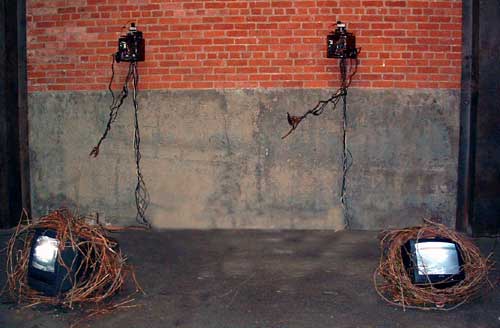 The Watchers - Televisuality for Xenia
John S. Lathram lll
The Watchers - Televisuality for Xenia explores the concept of gallery behavior. Xenia observes the exhibition space, be it art object or patron. With the attention of a six year old, she may become bored and turn away. Or she may communicate information in a secret language to another work of art.
The Watchers - Televisuality for Xenia is a part of the evolution of the artist's ideas involving the use of man-made materials and organic structures. Xenia is composed of Salix Tortuosa (Curly Willow), universal joints, cameras, vines, springs, and a host of electronic components and programming that allow her to follow an observer in the room. The two works that comprise the installation represent the idea of communication on several levels. The development of each work allows for a society of parts to function as a whole. Each entity interacts with the gallery audience, thus forming another, larger society.
---
John Sherman Lathram III currently resides in Columbus, Ohio. He is a MFA candidate in Art and Technology at The Ohio State University. He is in the midst of working on the outdoor installation, Salix Robotix Motum that requires the implantation of sensors and plant prosthetics in living willows. The sensors will record the environment and send data to a 3-d modeling program, which will produce a physical object based on those coordinates via a rapid prototype program. The prosthetics will react to human presence.
Acknowledgements: Support for John S. Lathram III's participation in ArtBots was provided by the Elizabeth Fergus Gilmore Fund through the Ohio State University.