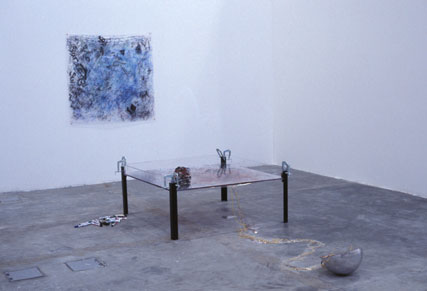 re-capacitance
Leesa and Nicole Abahuni
re-capacitance is a cumulative project that began at the 6th International Arts Biennial of Sharjah, United Arab Emirates, on April 8, 2003, just 19 days after President Bush officially declared war on Iraq. In the U.A.E., graffiti and protests are not permitted by law, but it appeared to us that this installation had provided an outlet for their expressions that could not otherwise be displayed. At EYEBEAM we have reconstructed the installation in hopes that New Yorkers will create their own robot/human graffiti in response to the writings from the local Arabic and international visitors to the Biennial. We wish to foster a cross cultural exchange using primitive technology and interactive art as a vehicle of communication.
---
Leesa and Nicole Abahuni are artists and twins based in New York who collaborate on investigations of the senses through electronic installations and performances. Their mechanical counterparts have exhibited and performed at the 6th International Arts Biennial of Sharjah, UAE; Tokyo, Japan; DUMBO Arts Center and Art Under the Bridge Festival, Star 67, Goliath, Brooklyn, NY; The Kitchen Street Fair, NYC; Deep Listening Gallery, Kingston, NY; Siggraph Digital Arts Convention, Los Angeles; The New York Hall of Science. This summer they will also be exhibiting at The Halfmachine festival in Copenhagen. Their awards include the Finishing Funds Grant from the Experimental Television Center, and the Alumni Award from the School of Visual Arts.

Acknowledgements: We would like to thank Sheika Hoor Al-Qasimi of Sharjah, U.A.E., Peter Lewis of Goldsmith's U.K., and ArtBots for granting us this opportunity for a cross cultural exchange.