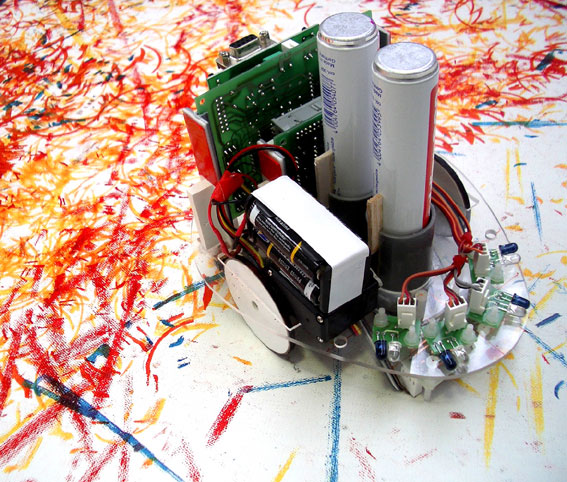 ArtSBot (Art Symbiotic roBots)
Leonel Moura
sensors, servomotors, microchip, wheels, batteries, plastic, ink pens
(2004)

ArtSBot is a set of autonomous robots that can produce paintings and drawings based on randomness and stigmergy. The paintings are the result of a self-organized process based on mobile robots that interact via the environment.
---
Leonel Moura is an artist born in Lisbon, Portugal, whose art merges with architecture, philosophy, science and technology. He has published several books on art, social analyses and science.
Acknowledgements: ArtSBot was funded by FCT (National Foundation for Science and Technology) under the scientific co-ordination of Henrique Garcia Pereira (Technical University of Lisbon). Robotics advice assured by ISR (Institute of Systems and Robotics of the Technical University of Lisbon) and physical implementation performed by IdMind.