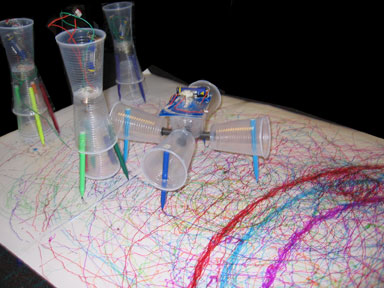 DrawBot Modding Contest and Workshop
Jonah Brucker-Cohen
plastic cups, motors, markers, glue, tape, your imagination
(2003)

Drawbot is a drawing system that anyone can use without having to learn electronics. It is a simple bot that mixes standard drawing materials (in this case magic markers) with weighted motors and plastic cups. When the cups vibrate, they draw circles and lines depending on their overall weight and power.

The Drawbot Modding Competition allows visitors to ArtBots to create simple Drawbots from the materials provided and encourages them to bring along any scrap materials (discarded electronics, junk, etc...) they want to integrate into their creation. All bots will be on display, can be taken home, and the winning bot will receive an award at the end of the show.
---
Jonah Brucker-Cohen works as a Researcher the Human Connectedness Group at Media Lab Europe in Dublin, Ireland and is a PhD candidate in the Disruptive Design Team of the Networks and Telecommunications Research Group (NTRG) at Trinity College Dublin. His focus is on subverting existing relationships to human/networked interfaces by building new real-world inputs to networks, redefining how information is used and disseminated, and shifting virtual processes into physical forms through networked devices and experiences. His work has been shown internationally at events such as Ars Electronica, Transmediale, ISEA, the Whitney Museum of American ArtŐs Artport and more.
http://www.coin-operated.com/projects/drawbot