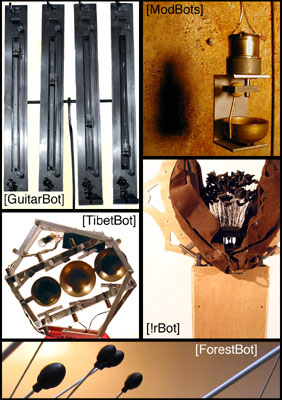 LEMUR: League of Electronic Musical Urban Robots
Eric Singer, Jeff Feddersen, Bil Bowen, Milena Iossifova
aluminum, steel, motors, solenoids, electronics
(2002-present)

LEMUR is a Brooklyn-based collective of artists and technologists creating robotic musical instruments. LEMUR was the winner of the Audience Choice award at ArtBots 2003. In 2004, LEMUR will be back with new robots, including ModBots (miniature modular percussive robots).
---
Acknowledgements: LEMUR is supported in part by grants from the Rockefeller Foundation, New York State Council on the Arts, the Greenwall Foundation and the American Composers Forum. We also thank Harvestworks (http://harvestworks.org) for sponsoring LEMUR. Photo credits: Brendan FitzGerald, Bil Bowen