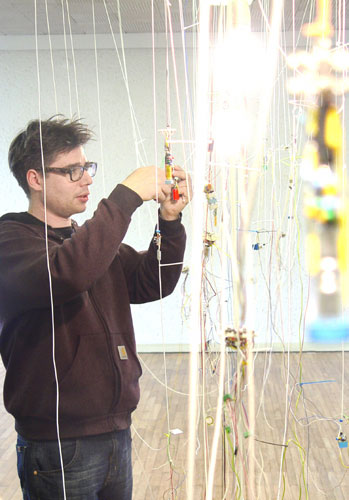 Living Particles
Ralf Schreiber
solarpanels, different electronic components, small motors, wire
(2001-2004 (work in progress))

Living particles is an audio kinetic installation that consists of many different electronic modules, which are suspended from coloured elastic bands and together form an organic system. The individual components receive their whole energy from small solar cells. The light is transformed in electric energy. This energy is transformed in small sounds and motion. All modules of the installation are based on very simple analogue electronic circuits. The amount of voltage is very low like in biological systems, so every module is very sensitive and works astabile. Changing light condition affects the quality and level of the emitted frequencies. All modules are connected among themselves. The appearance of the whole installation represents the intern electronic structures of each module. The energy is shared and feed backed in the system. The Signals of grouped modules interfere amongst themselves and with the sounds of the environment. The result is a turbulent surface full of chaotic motions, vibrations and undulations, small sounds, superimposing, enhancing or interrupting each other.
---
Born 1964 in Cologne, Germany. Lives in Cologne and works with audio installations, robotics, chaotic processes, auto active systems and silence. 1999-2002 Postgraduate studies at the Academy of Media Arts Cologne, 1993-1997 MA studies at the Muenster College of Art
http://www.kineticus.com/homepage.php?artist=RalSch&user=
Acknowledgements: Academy of Media Arts Cologne, Mark Tilden, photos by Ernas Simkunas