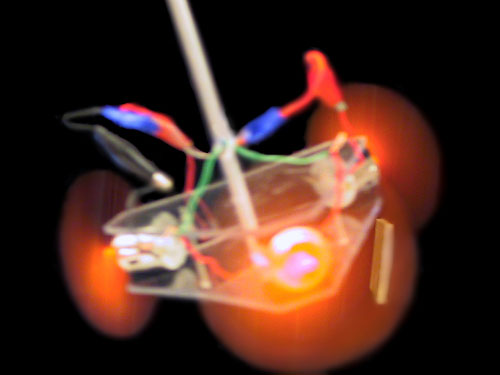 Ornithoids
Daniel Canazon Howe, Jeff Han
aluminum, acrylic, fencewire, motors, props, scraps
(2004)

Ornithoids is an interactive, kinetic, sound-sculpture composed of rotor-propelled, sonically-enabled robots flying through a large wire enclosure. Each self-contained robot is equipped with its own speaker for sound output and is capable of movement in all directions within a plane. While interactions continuously occur between the RotoBots themselves, each is also able to 'sense' the presence and movements of audience members and to vary its behavior accordingly, attempting to facilitate interaction. Each robot is programmed with a unique behavior set ranging from submissive to dominant, solitary to social, and fearful to hostile -- mirroring aspects of our own relationship to technology. As the simple behaviors of individual robots yield more complex and unexpected system behavior, the work interrogates the disparities between a system's intention and its realization in the world, inviting us to consider how such gaps impact our social responsibility as designers of such systems.
---
Daniel C. Howe is a digital artist & doctoral candidate at the NYU Media Research Lab. His interests include sound design, alternative human-computer interfaces & social aspects of technology. In addition to a background in improvisational music & creative writing, Daniel has masters' degrees in Computer Science (UW) & Interactive Media (ITP), as well as nearly ten years of industry experience as a programmer, software designer, artist and educator.
Jeff Han is a senior research scientist at the NYU Media Research Lab, focusing on the areas of computer graphics, computer vision, multimedia systems, and interactive techniques. Most recently, he developed the highly successful vision tracking system for ACCESS, which has been exhibited at Eyebeam, SIGGraph 2003, and Ars Electronica 2003. Jeff studied computer science and electrical engineering at Cornell University.
http://mrl.nyu.edu/~dhowe/ornithoids/