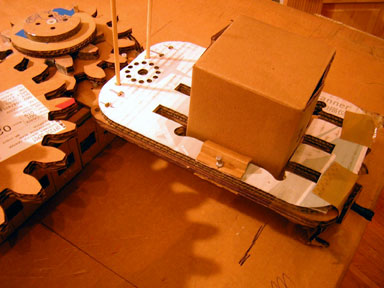 Recycle Robot
Dan Paluska
cardboard. tape. motors. bits and bobs. (greater than 90% post consumer content)
(2004)

Most of us recycle in our everyday lives: our new dell or apple double thick cardboard computer boxes get flattened and set out on recycle day, we save our bags from the grocery store, we take our soda cans back for deposit. It makes us feel good about ourselves. But how often do we ask where these materials came from? How often do we ask what happens to them after we recycle them? It's currently usually more expensive for companies to use totally recycled goods rather than goods produced from raw materials.

Recycle robot is part of a utopian view of the future. Recycle robot is veiwable from two sides to show you what currently is and what could be. The recycle robot is the perfect consumer. It is a cardboard automaton who reuses and recycles all day long. It diligently recycles every box it uses and only uses recycled boxes. It is made from almost entirely post consumer content. Old cardboard boxes, tubes, and surplus motors are the bulk of the machine.
---
Dan Paluska is a robotics researcher and artist based in the boston area. He is currently pursuing his phd in mechanical engineering at MIT. In research and art he is interested in the intersection of humans and their automation.