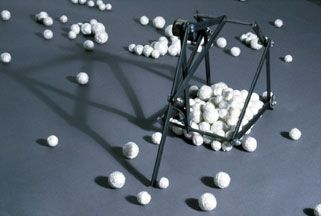 String Ball Collector
Ellen Lake and Chris Green
steel, electronics, motor, acrylic, nylon
(2002)

The String Ball Collector is a small metal machine that travels in a circle attempting to gather hand wrapped string balls. As the machine successfully picks up certain balls, others fall out. Over time, patterns begin to form marking the successes and failures of the machine and charting the path of the String Ball Collector. Ideas emerge about collecting, obsession, routine, expectation, and disappointment.
---
Ellen Lake received her MFA from Mills College in Oakland, California in 2002. She studied sculpture, video, and electronic arts. She is now working on a series of experimental documentaries on collecting and hoarding.
Chris Green is a hydrologist working at the US Geological Survey in Menlo Park, California. He received his PhD in Hydrologic Sciences from University of California, Davis in 2002. Ellen Lake and Chris Green are currently collaborating on their next mechanical sculpture.
http://www.ellenlake.com/sculpture/sbc.html
Acknowledgements: Mills College Art Department
Photo credit: Renee Whitworth