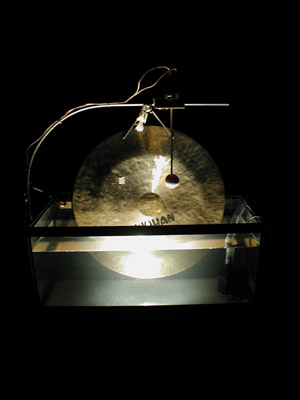 Sustainable
David Birchfield, David Lorig, Kelly Phillips
gongs, a water tanks, water pumps, lights, gong resonating mechanism
(2004)

A soft murmuring chord and a shimmering play of light greet a visitor as she enters the space of the installation. Seven automated water gongs around the space resonante at fluctuating pitches. As the gongs resonante, the surface of the water in the tanks will ripple. A lamp at the bottom of each tank illuminates this ripple pattern and projects it on the ceiling and walls of the space. This ambient environment is in constant flux at a slowly sliding pace. As the water levels in each tank rise and fall, the pitch of the resonance will shift. As the solenoid actuators alter their pulse rates, and as the illuminating lamps dim and rise, the visual ripples and shadows will change intensity and character.
---
Design and implementation of this work is executed by a collaborative team of three musicians, artists, and fabricators.
http://ame2.asu.edu/faculty/dab/sustainable.php
Acknowledgements: We would like to acknowledge the generous support of the Arts, Media and Engineering Program at Arizona State University.