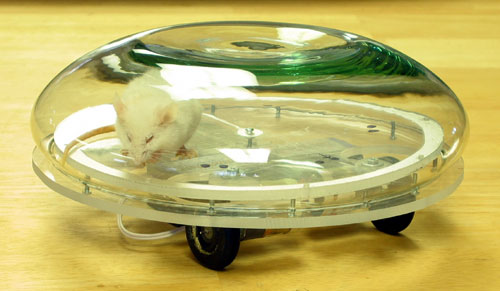 Three Blind Mice
ART: Art Re-envisions Technology: Remo Campopiano, Guy Marsden & Jonathan Schull
glass, plastic, electronics, three white mice
(2004)

Three Blind Mice is a performance art piece by three white mice driving three small glass cars. The mice will have already logged on enough driver training hours to be adept at operating the vehicles. What they choose to do with their mobility is yet to be seen.
---
A.R.T. is an art collaborative in the USA made up of Remo Campopiano, Guy Marsden and Jonathan. We came together in 2001 to create a piece for the Complexity exhibition at the Dorsky Museum in New Paltz, NY. Our collaboration produced Eight-bit Ant Farm http://www.artreenvisionstechnology.com/projects/ebaf/index.htm. Since then we have formalized our collective under the name A.R.T. (Art Re-envisions Technology) and have been working on a number of new projects including Three Blind Mice.

Remo Campopiano is a sculptor living and working in Seekonk, Massachusetts. Campopiano is best known for his live-art museum installations, for which he has won many fellowships, including a National Endowment for the Arts Award.

In 1992 he led an international art movement out of a small storefront in Soho called ARTNETWEB; a network of people and projects investigating new media in the practice of art. ARTNETWEB culminated in the historical Internet-performance art exhibition at MIT entitled PORT: Navigating Digital Culture. Campopiano interests include bio-art, robotic-art, visualizing historical time, visualizing digital data flow including the Internet and helping younger artist as a mentor.

Guy Marsden began creating and exhibiting electronic artworks in the mid 1980's. His early work included controlled discharge neon plasma in complex glass envelopes. A continuing series called "Digital Numeric Relevators" satirize our implicit trust in electronically represented numeric information. His work has shown in museums and galleries throughout the US and Canada. He enjoys multiple parallel and serial careers including motion picture special effects in the 1980's. Currently he operates ART TEC providing engineering services to his fellow artists and also to inventors. He also makes fine wood furnishings and recently began creating turned wood artworks.

Jonathan Schull is a biological psychologist with a longstanding interest in adaptive systems, evolutionary psychology and the spread of information through intelligent networks. Schull has done scholarship and invention in intellectual property protection, information commerce, the new information economy the nature of intelligence in biological and artificial systems. A professor of Information Technology at Rochester Institute of Technology he is currently focusing on information visualization and the development of novel personal interfaces to the information ecology.

http://artreenvisionstechnology.com