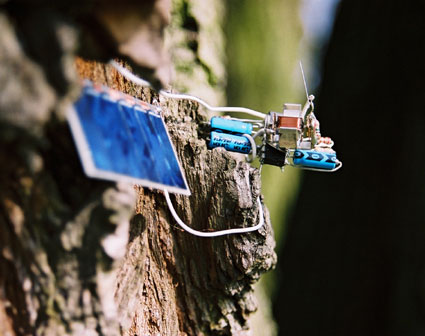 elf - electronic life forms
Pascal Glissmann, Martina Hoefflin
Prints, Weckglasses, small solar analog circuits
(2004)

One part of the installation shows photographs documenting a natural environment populated with small analog solar robots, the so called uncommon life forms. The contrast of electronic and nature seems to disappear and fade away. The unknown species in our well known surrounding looks acceptable and even comfortable to the observer.

The other part of the installation consists of Weck-glasses as prisons of the uncommon life forms. This scenario reminds of Childhood adventures, exploring and discovering the world around us. The elfs still get their needed solar energy, but seem to desperatly use their only communication chanel, chaotic sounds and movements, to call the attention of the outside world.

elf _electronic life forms
_uncommon for having transistors, capacitors, resistors instead of organs, DNA or a brain.
_uncommon for each one looking and acting different but being the same species.
_uncommon for being art-ificial but appearing natural.

_life forms since they live while the sunlight is available for them.
_life forms since they produce sounds and motion out of light (some call this photosynthesis).
_life forms since they are analog and act unpredictable.

The entomological field study of this species - initially called elf - focuses on observing behaviour, sounds and motion in nature and in captivity.

Photosynthesis is the process by which plants and some bacteria use the energy from sunlight to produce sugar, which cellular respiration converts into ATP, the "fuel" used by all living things. The conversion of unusable sunlight energy into usable chemical energy is well known. But the direct conversion into movements and sounds is a new field in the artificial animal research. Like a plants' leaf may be viewed as a solar collector crammed full of photosynthetic cells some body parts of the elf species have a light absorbing capacity. Other parts can collect this energy up to the necessary amount that is needed to execute a certain behaviour (movements, sounds, ...). For that reason elfs are photosynthetic organisms with light dependent processes (light reactions) balancing between autotrophic and non-autotrophic life forms.
---
Pascal Glissmann, born 1973 in Germany, studied Communication Design at the University of Applied Sciences in Düsseldorf focusing on photography, typography and interaction design. After completing his MFA in audiovisual media at the Academy of Media Arts Cologne, gaining work experience in New York City and working as an Art Director in Germany he is now researching and teaching at the Academy of Media Arts Cologne.
Martina Höfflin, born 1971 in Kenzingen, Germany, studied Computer Science at the Academy of Applied Sciences in Furtwangen and the San Francisco State University focussing on interaction design, usability and internet applications. After 2 years of freelancing as a media designer for different companies and customers in Berlin and Munich, she is now working in research at the Academy of Media Arts in Cologne since 2002. Besides she is cofounder of the Büro für Brauchbarkeit, a studio for media, art and fashion in Cologne.
http://www.khm.de/mg/projekte/ulf