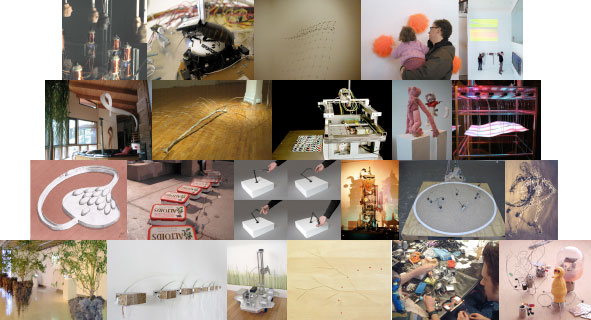 Thanks for another wonderful ArtBots show!
The Fourth Annual ArtBots: The Robot Talent Show, an international art exhibition for robotic art and art-making robots, took place on July 15, 16, 17 at Saints Michael and John Church in Dublin, Ireland. It was a terrific show, with 21 works selected from a large and diverse pool of entries submitted by artists from around the world. Over 1650 visitors attended the three day exhibition!
We'd like to thank the many hard-working artists and volunteers from around the world who kindly contributed their time and tremendous energy to the show. Putting on a low-budget but ambitious exhibition like ArtBots takes an awful lot of work, and without the talent and support of our many collaborators and volunteers it could never happen. Thanks also to our sponsors, The Ark: A Cultural Centre for Children, and the Columbia University Computer Music Center, who very generously provided not only the funds, but also the time and institutional support necessary to produce the show. And finally, special thanks to Michael John Gorman and Marie Redmond, my ArtBots co-curators this year. Their dedication and enthusiasm for having ArtBots in Dublin were the foundations of this year's show.
While ArtBots isn't a competition, each year we give out two fun prizes: the Audience Choice Award and the Artists' Choice Award. The prizes this year were generously created and donated by The Monster Factory. The winner of the 2005 Audience Choice award was Garnet Hertz's "Cockroach controlled mobile robot #2". The winner of the 2005 Artists' choice award was Elias Crespin's "Malla Electrocinética #1". Congratulations to Garnet, Elias, and all of the artists for putting on such a lovely and well-loved show. We'll be back next year, so get to work!
Douglas Repetto
Director, ArtBots: The Robot Talent Show
---
ArtBots 2005 Documentation
Download the ArtBots 2005 poster!
Check out the ArtBots 2005 t-shirt
---
ArtBots 2005 was made possible by the generous support of The Ark: A Cultural Centre for Children (Dublin), and The Columbia University Computer Music Center (New York), and was produced as part of The Ark's summer Save the Robots Festival.