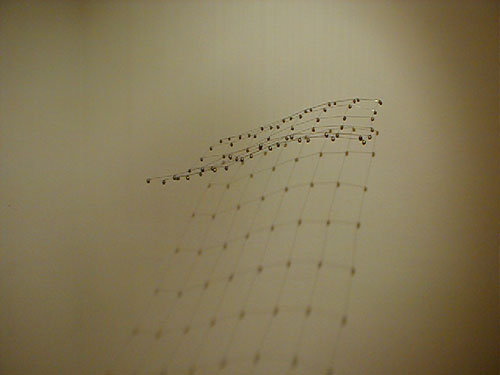 Malla Electrocinética #1
Elias Crespin
Steel, lead, nylon, stepper motors, electronics, PC and software
(2004)

The Mallas have the purpose of insinuating moving points, lines, surfaces and volumes, or, if preferred, to harmoniously place and remove these elements from space. Articulated steel rods weave a horizontal mesh with 64 nodes modulated by a computer connected to an equal number of stepper motors.

The spectator watches a dancing surface whose connection to mechanics or electronics is not obvious: The link is rather inferred than seen. The beauty of forms implies that technology is an instrument and not the goal.
---
| | |
| --- | --- |
| | Elias Crespin was born in Caracas in 1965. He received a Bachelor's degree in computer science at Universidad Central de Venezuela, UCV in 1990. He currently lives in Caracas with his wife Mena and 2 year old son Sebastian. In 2002 he started to explore ways to create movement from computer controled electronic systems. Elias began to exhibit his work in May 2004 and has participated in 7 collective exhibits in different cities of Venezuela. |
Acknowledgements:
Special thanks to Dirección General Sectorial de Artes Visuales y Museos del CONAC y Ministerio de La Cultura de la República Bolivariana de Venezuela
Sunadca, Servicios Nacionales de Aduana C.A.
Turismo Maso Internacional
Air France Venezuela
Museo del Estado Miranda
Fundación Gego
Taller Alcón
Sabe de Datos Consultores, C.A.
My Wife Mena for her patience and belief; and all the people who have colaborated and supported the Malla project including Bárbara Gunz, Henry Varela, Fernando La Riva, Argimiro Hernández, César Rodriguez, Valentina Alvarez, Magdalena Fernández, Egleé Paz de Rincón, Rafael and Gino Poján, Rolando Carmona, Carlos Fernández, Josefina Manrique, Marcela Elgueda, Estela Rodríguez, Soydé Bastidas, Susana Quintero, Maria Gabriela Bravo, Alfredo Alfonzo, Camilo Betancourt, Ernesto Burguillos, Manuel Vega
Thank you all very much.