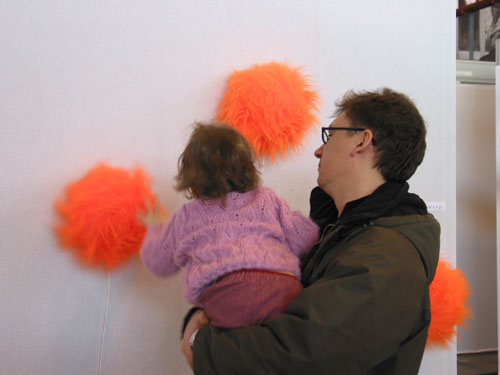 Nervous
Bjoern Schuelke
Theremin, amplifier, servomotor, loudspeaker, plush, wood, styrofoam
(1999/2003)

The interactive audio-kinetic object "Nervous" is a bright, orange, and fluffy hemisphere. When approached, it becomes nervous and starts to beep and move frantically. The Nervous body contains a Theremin. It is one of the first electronic music instruments in history, invented 1917 by Leon Thermen in Russia. The Theremin works electronically and provides an electromagnetical field which can be influenced by the dynamic body-capacity of the spectator. The changing frequencies of the theremin trigger the mechanism and the orange plush body starts to turn ... starting a curious dialogue between the spectator and the object. Are the human emotions interfering with the emotions of "Nervous"?
---
| | |
| --- | --- |
| | Bjoern Schuelke (1967) is an multimedia artist based in Cologne, Germany Schuelke trained in photography and film design in Bielefeld, Germany before completing Postgraduate studies at the Academy of Media Art (KMH) in Cologne. Bjoern Schuelke's kinetic sculptures provide us with a sensory experience, yet one in which we are not always in control, rather his machines react to or observe us. His ingeniously designed machines question the way in which we interact with modern technology, combining elements of surveillance technologies, robotics interactive video and sound. |
Acknowledgements: ???