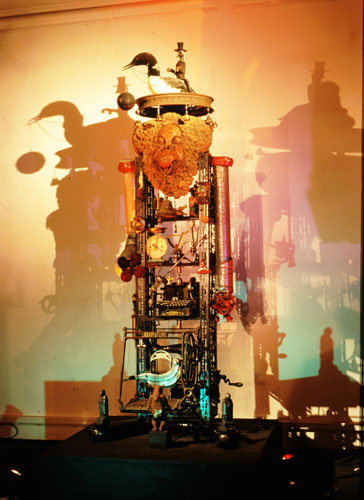 Rag-n-bone Man
Eduard Bersudsky/Sharmanka
scrap metal, elm, primitive electrico-mechanical devices
(2004)

"Rag-n-bone man" is made of scrap metal and burred elm + some primitive electric and mechanics. Most of the junk is from the famous Glasgow Barras Market (10 min walk from Sharmanka Gallery). Some bits came from a the boot sale in Denmark, stuffed bird was also found there - in a skip near Experimentarium Science Centre. Small bells are from the small foundry in France and big one is from Jaffa market in Tel-Aviv. All together has something to do with post-war childhood with wandering traders, remnants of somebody's past and a joy to play with self-made toys.
---
| | |
| --- | --- |
| | A self-taught visionary artist, Eduard Bersudsky (b. 1939) began to make mechanical sculptures out of metal scrap and bits of wooden furniture, combined with wooden carved figures, in the mid 1970s. Since 1988 he collaborates with Tatyana Jakovskaya (b. 1947), a theatre critic and director. Together they founded SHARMANKA Kinetic Theatre in St.Petersburg, Russia (then - Leningrad, USSR). Sharmanka is a Russian word for a barrel organ, or hurdy-gurdy. Mechanical movements of kinemats are supported with music, light and shadow play, designed by Sergey Jakovsky (b. 1980). SHARMANKA moved to Scotland in 1993, when Glasgow Museums bought some of its exhibits for Glasgow Gallery of Modern Art. We have had a permanent gallery space and workshop in Glasgow since 1996. At the same time Sharmanka keeps touring and undertaking commissions. Eduard Bersudsky has received "Creative Scotland Award 2005". |
Acknowledgements: Glasgow City Council, Brian Condon, Arkady Retik, Walter Wolfe