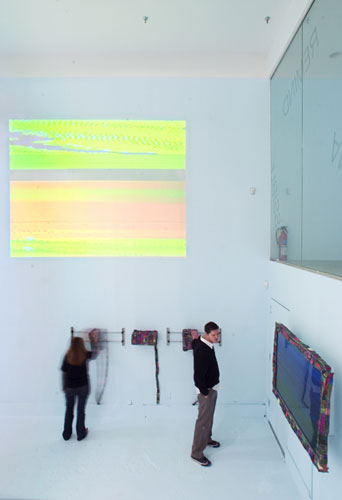 Retrospectrum
Yoav Bergner and LoVid (Tali Hinkis and Kyle Lapidus)
Sliding video transceivers with patchwork collage and electronics
(2005)

Retrospectrum creates live video by broadcasting, receiving, and rebroadcasting electrical signal through multiple video transmitters and cameras simultaneously. Two transceiver units move on rails, transmitting signal that is channeled and processed through colorizers and mixers which it also controls. The final output of this electronic patch erupts decayed, recreated, and preserved electrical signal as an ever-changing abstract video feed. The movement of the transceivers is controlled by information received from video cameras monitoring the video output as well as the transceivers' own movements and the piece's surroundings.
---
Using homemade electronic devices and DIY sculptural instruments, LoVid overwhelms the senses with new media in their objects, installations, and videos. LoVid has toured and exhibited extensively including Max Protetch, NY Underground Film Festival, Kraak(3) Festival, The New Museum, COCA, Sotheby's, SOUTHFIRST, Happy Lion, and Institute of Contemporary Art. LoVid has recently been selected as artists in residence at Eyebeam, Harvestworks, and iEAR, and has been nominated as a Free103Point9 transmission artist.

Yoav Bergner is sculptor and studio furniture maker born in Israel, raised in New York City and trained as a theoretical particle physicist in Cambridge, MA. Through both mixed media assemblage and traditional joinery in hardwoods, his work explores the emotional potency of industrial materials and the secret life of the inanimate.
http://www.ignivomous.org/projects/lovid/
Acknowledgements: !Rama, Dlisah, Alex Dunbar, The New Museum, and free103Point9 for their support.