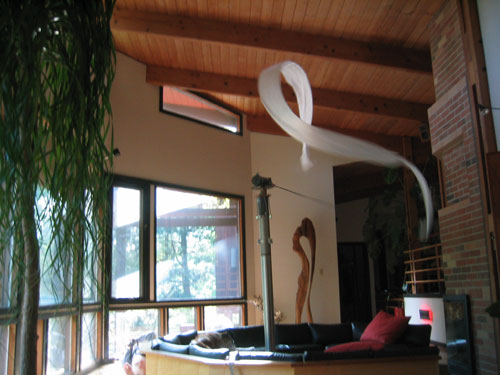 Ribbon Dancer
Bruce Shapiro
industrial servo motors, graphite rod, silk, original hardware and software
(2004-5)

The idea behind Ribbon Dancer stems from the overlap of two very separate things-- the first being a mistake I made trying to program Flash animation, which resulted in something that reminded me of the way silk streamers used by Chinese dancers leave a visual trail as they fly. Several years later, I was searching for easy DIY robotics projects that kids could tackle, and tried mounting one stepper motor directly to the shaft of another-- producing a very simple, two-axis, spherical coordinate system (one motor controls latitude, the other longitude). While playing with this motor arrangement, I remembered the Flash bug and wondered: Could such a simple mechanical strategy be used to produce complex and beautiful flight paths, despite their being confined to the surface of a sphere? Although still early in developing software capable of choreographing the dancer's movements in such a way as to truly merit the term "dance," I believe the answer is, "yes."
---
| | |
| --- | --- |
| | Bruce Shapiro (1957) received his medical degree from the University of Minnesota in 1983. After practicing as an internist for five years he left medicine to pursue his fascination with connecting computers to stuff that moves. He has been following that passion wherever it leads him for the past 15 years. |
http://www.taomc.com/art_machines/ribbondancer.htm
Acknowledgements: Thanks to my wife and kids for putting up with my incessant ravings about motion control, and for sharing their home with a continuous stream of prototype machines.