UPDATE: John Lathram is recovering from a serious illness and will not be able to participate in the show this year. John's work has been a staple at ArtBots since our very first show, and we'll miss him tremendously this year. We wish John a complete and speedy recovery!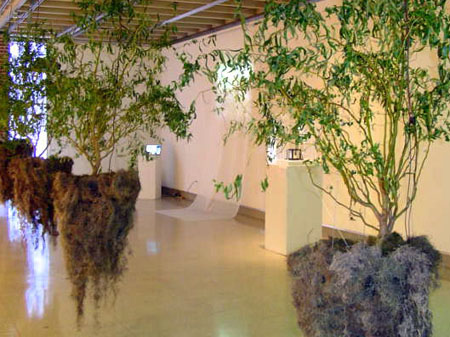 SALIX
John Sherman Lathram lll
S. erythroflexuosa, Accelerometers, 12-volt motors, motion sensors, native plant materials, MAX/MSP software (Lspeak), IBook
(2004-2005)

SALIX explores the concept of observing the poetic movement of branches in a natural habitat and the ability to harness this movement into an art form. SALIX uses small GPS devices embedded in the ends of the branches to record branch movement via numerical data. Human interaction causes motor prosthetics embedded within the root (system) to actuate branch movement within the gallery. As a result, the small GPS (accelerometer) devices send numerical data to a computer system, allowing the willow to speak via a prosthetic computerized voice.
---
| | |
| --- | --- |
| | John was born in Kentucky in 1962. His progression as an artist began as a breeder of dogs and plants, (although not together!) He completed his MFA at the Ohio State University, USA in 2004. JohnÕs art addresses the issues of technology as prosthetic devices that may or may not make living beings existence more convenient. He currently resides in Columbus, Ohio, and lectures at The Ohio State University for a technology based arts curriculum. |