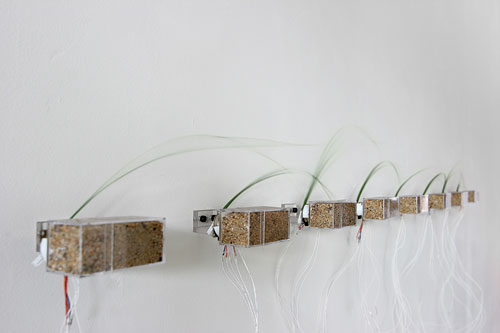 Sketch of a field of grass (dunes), Pacific Coast, 2005
Ryan Wolfe
Electronics, software, computation, acrylic, sand, polymers
(2005)

Sketch embodies the essential dynamic beauty of an offshore breeze blowing through a field of grass. In Sketch, I have reinterpreted that complex kinetic phenomenon in a minimal form.

Sketch consists of a number of identical robotic blades of grass laid out in a long arcing line. The material and kinetic facets of a unique landscape are expressed in the simplified form and movement of these blades. Each blade is unique, responding to its environment independently; each blade interacts with neighboring blades using a common set of simple behavioral rules. The aggregate sculptural form of Sketch is created when a group of these robotic blades communicate in concert, their movements coalescing into a lyrical reinterpretation of a complex and beautiful natural phenomenon.
---
| | |
| --- | --- |
| | Ryan Wolfe is a device artist based in San Francisco. Ryan creates animate and interactive sculptures and design objects that incorporate technology in subtle and beautiful new ways. Much of his current work explores the creative reinterpretation of natural systems-based algorithms and the sculptural qualities of simple emergent behaviors. |
Acknowledgements: ???