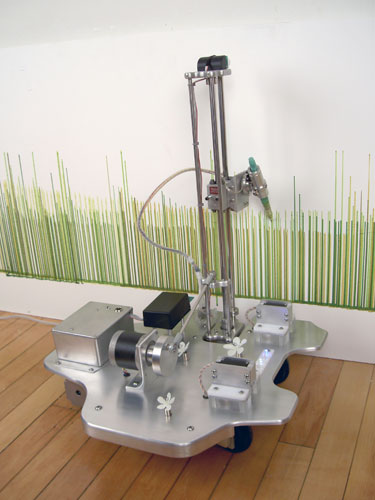 Translator II: Grower
Sabrina Raaf
Aluminum, ink, custom electronics, robotics and sensors
(2004)

Translator II: Grower is a small 'rover' vehicle which navigates around the periphery of a room. It hugs the room's walls and responds to the carbon dioxide levels in the air by drawing varying heights of 'grass' on the walls in green ink. The Grower robot senses the carbon dioxide (CO2) level in the air via a small digital CO2 sensor. This sensor is mounted high on a wall of the exhibition space and sends data wirelessly to the robot. The number of people in an exhibit space breathing in oxygen and exhaling CO2 has an immediate effect on the sensor. My robot takes a reading of the CO2 level every few seconds and in response it draws a vertical line in green ink on the wall. The line height pertains directly to the level of CO2 (and therefore also the people traffic) in the space. The more CO2, the higher the line is drawn - the maximum height being 1ft. Once Grower completes a line, it moves forward several millimeters and repeats the process. By the end of an exhibition, the bases of all the walls in the space are covered with fine green lines which together resemble a cross-section of a field of grass.
---
| | |
| --- | --- |
| | Sabrina Raaf is a Chicago-based artist who works in both experimental sculptural media and photography. She is a producer of creative machines - machines that independently make art when cross-pollinated with human interaction. In 2004-5, her work will be shown at the Stux Gallery in New York City, at the Museum Tinguely in Basel, Switzerland, at the San Jose Museum, at the Oboro Art Center in Montreal (solo), at the Kunsthaus Graz in Austria, and at ISEA (the International Symposium of Electronic Arts) as part of Wearable Experience amongst other exhibitions. In 2003, her work was exhibited in a solo exhibition entitled Roving at Klein Art Gallery in Chicago and in the eShow exhibition curated by Barry Blinderman at the Krannert Museum. She is the recipient of a 2002, Creative Capitol Grant in Emerging Fields and two Illinois Arts Council Fellowships (2005 and 2001). She has been reviewed in Art in America, Contemporary Magazine, the Chicago Tribune Sunday Magazine, Leonardo Magazine (MIT Press), , The Washington Post, The New Art Examiner, The City Paper, and The Chicago Reader. She received an MFA in Art and Technology from the School of the Art Institute of Chicago in 1999. Sabrina is currently a tenure-track professor in the Photography Department of Columbia College in Chicago. |
Acknowledgements: This project was made possible by a grant from the Creative Capital foundation in NYC and a Faculty Development Award from Columbia College, Chicago.