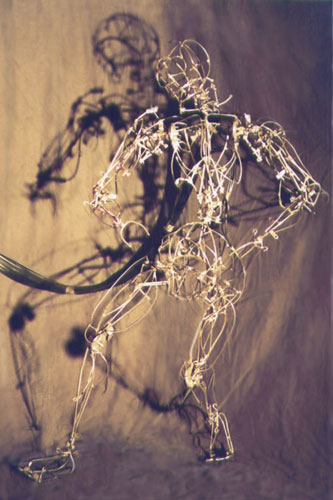 You Move Me (an interface for human/machine collaboration)
Lara Greene
Steel, Wood, Fabric, Steel Cables.
(2005)

The piece is a life-size mechanical she-humanoid. Steel cables extend from within the body to multi-functioning levers that can be pushed, pulled and twisted to create various movements and affect her position in space. Complete body articulation is possible, however for this a group of up to eight operators is necessary, these being any visitors who wish to take part. A space in front of the figure invites passers by to approach and engage in physical or verbal communication.

This is a physically immediate, tactile and engaging experience. The work experimentally hands over control to visitors but a shared portion of it only. The figure has the capacity for elegance or awkwardness dependent upon people's ability to control and desire to co-operate with each other. In a society so focussed on individuality this piece highlights group dynamics and uses it to fuel the outcome. Participants become performers or collaborators creating a web of interplay which is as much part of the piece as the sculpture.
---
After graduating in Fine Art from The Nottingham Trent University in '99, Lara jointly set up 'Reactor', an artist studios and collective producing events for the public which experiment with the audience, pushing the boundaries of how far an audience may expect to be involved in an art event/piece. It was in this environment that she started creating mechanical puppet/machines.

The puppet/machines are interactive sculptures which act as an expressive and communicative link between people. They explore notions of control/dependency, power/intimidation, mimicry, and group co-ordination/discord, challenging our sense of independence in the world.

In Jan/Feb 05 she undertook a residency at Amorphic Robot Works, NY to develop the artwork 'You move me'. Previously she has worked on several shows as a sculpture technician with Amorphic Robot Works manufacturing inflatable elements for large scale installation/performance pieces.

Lara lives and works in Edinburgh.