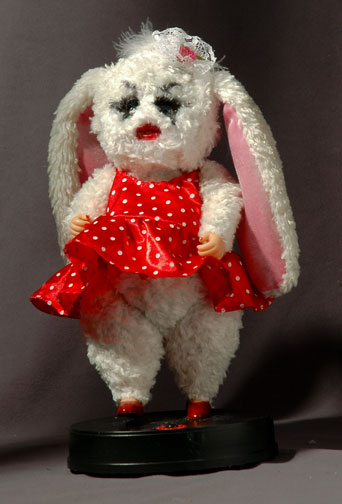 (click for hi-res)
Mechanical Dolls
Yuliya Lanina
Mixed media
(2008)

In my work I explore cultural identity and sexuality through images of perverse yet innocent dolls. Taking cute and cuddly ready-mades and turning them into fetishistic objects, I construct my work on the intensity of coexistence of opposite extremes and remain open to a multiplicity of interpretations. Besides visual alterations, each doll requires electronic modifications as well. At the end it becomes one of a kind robotic creature, which starts by some kind of interaction with a viewer.
---
| | |
| --- | --- |
| | Yuliya Lanina is a Russian-born American artist based in New York City. Lanina has exhibited extensively both nationally and internationally. Her work has been displayed at the Seoul Art Museum, Russian Contemporary Art Museum, Chelsea Museum, Ludwig Museum (Cologne) and other venues. Her short films were premiered at many festivals around the world. Lanina has been a recipient of Full MFA Hunter College Grant, Award of Excellence in the Manhattan Arts International Competition, Spencer Scholarship, WCC Scholarship for Outstanding Achievements in Academic Area, NESIYA Fellowship, HIAS Scholarship, and others. |
Acknowledgements: Thanks to Theodore Johnson for helping with the mechanics.