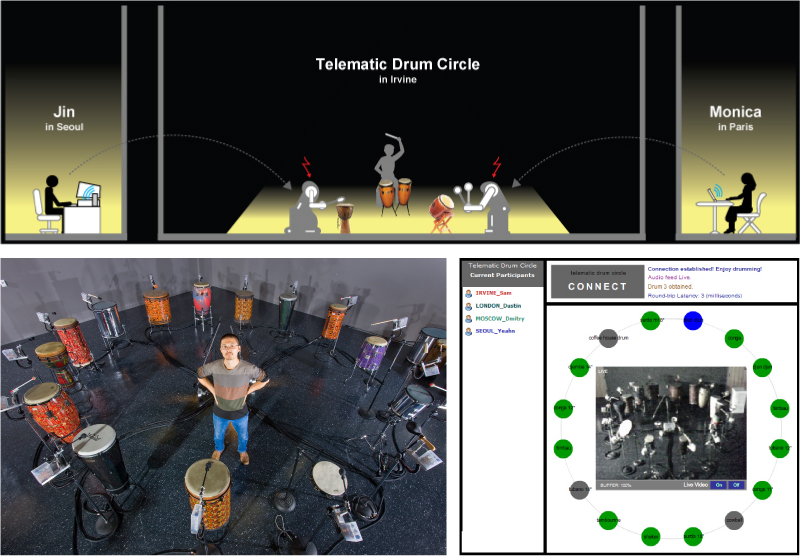 (click for hi-res)
Telematic Drum Circle
Byeong Sam Jeon
aluminum, microcontrollers, pneumatic air control valves, magnetic air
cylinders, reed switches, electronic air control valves, percussion
instruments, webcam, video broadcaster, lighting equipment, custom
software, audio mixer, microphones, computers, air compressor,
air tubes, drum sticks, video projectors, etc.
(2008)

"Telematic Drum Circle" is an interdisciplinary art project which combines telecommunications, robotics, human-computer interaction, and improvisational music. The project allows multiple online users around the world to create a live collective sound improvisation by controlling sixteen robotic percussion instruments via the Internet. The project explores the rupture of deeper communication in the technology meditated world, and addresses the issue of global harmony by sharing participants' rhythmical spirit produced through the telematic live drum ensemble. "Telematic Drum Circle" consists of two main components: a set of sixteen robotic percussion instruments arranged in an installation space and an interactive website (www.TelematicDrumCircle.net) networked with these instruments. Each percussion instrument is representative of a geo-cultural region. Regardless of age, sex, religion, race, and culture, we all have a universal rhythm which is a heart beat. The drum is an instrument of rhythm, and I believe it can stand in for a person's heart. The heart-to-heart communication expressed on drums and percussion instruments cuts through all the differences, and blurs the boundaries between us. By tapping the computer keyboard while at the website, participants around the world can remotely play the robotic instruments together, while watching a live streaming video of their ensemble broadcast through the website.
---
| | |
| --- | --- |
| | Byeong Sam Jeon is an internationally recognized electronic artist and technologist whose research interests include telematic culture, interactive systems, robotic arts, online networks & global communications, and minority issues. His work is driven by his belief that technology enables all sorts of people to deepen and enhance interpersonal communication. His research addresses the theme of social interaction between groups of people from different backgrounds. As an artist, he creates bridges to build healthy relationships among people and encourages them to consider the importance of social communication. For a decade, Byeong Sam has exhibited and performed in several international and national venues, mainly including "SIGGRAPH" in LA, ISIMD in Istanbul, Turkey, "AsiaGraph" in Shanghai, China, "O'Reilly Emerging Tech Conference" in San Diego, "Salon internacional De Arte Digital" in Havana, Cuba, "Total Museum of Contemporary Art" in Seoul, Korea, "Crecloo Art Gallery" in New York, "Uijeongbu International Digital Art Fest" in Seoul, Korea, "Beall Center for Art and Technology" in Irvine, CA, "The National Theater of Art" in Seoul, Korea, and so on. |
Acknowledgements:
Technical Support
- Matthew Teeter, Tom Jennings, and Stephanie La
Sponsors
- Arts Council Korea (http://www.arko.or.kr)
- Clippard Instrument Laboratory, Inc. (http://www.clippard.com)
- Remo Inc. (http://www.remo.com)
- Embodied Media + Performance Technology Lab (http://embodied.uci.edu)
- California Institute for Telecommunications and Information Technlogy (http://www.calit2.net) - Sparkfun Electronics (http://www.sparkfun.com)
- Arts Computation Engineering Program, University of California, Irvine (http://ace.uci.edu)
- Department of Music, University of California, Irvine (http://music.arts.uci.edu)
- Claire Trevor School of the Arts, University of California, Irvine (http://www.arts.uci.edu)
- Bimba Manufacturing Company (http://www.bimba.com)