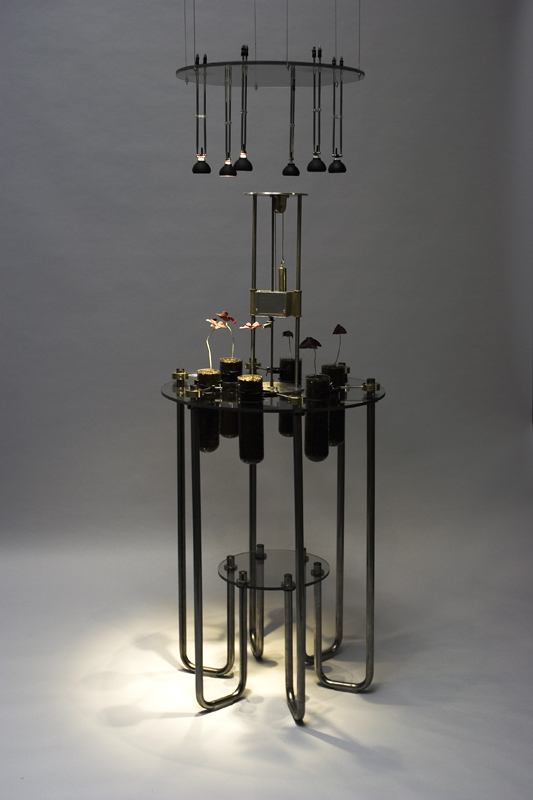 (click for hi-res)
The Search for Luminosity
Allison Kudla
Arduinos, Bent Steel Tubing, Code, Custom Circuitry,
Fasteners, Glass, Grow Lights, IR Sensor, Lexan,
Light Fixtures, Motors, Oxalis Regnellii, Power Supply,
Rack and Pinion, Soil, Various Metals and Plastics, Water,
Wireless Transceivers, Wires.
(2007)

Many life forms contain endogenous rhythms. For the oxalis plant, it is not simply the presence of a sun that triggers it to lift its leaves in preparation for photosynthesis, but rather a programmed memory, or an endogenous rhythm, that the plant has of its previous day's routine that can cause its leaves to rise. Given that the plant does not need initial sunlight every day to wake itself up, in darkness, as soon as the Search for Luminosity's scanning mechanism senses and recognizes the plant has begun to lift its leaves, it provokes its above light to turn on, thereby putting the power of the sun rising in control of the movements of the plant. The plant's dramatic gesture of waking and sleeping becomes the signaling observed by the technology that mediates the message to the acting sun in the plant's universe. In this clock-like circular sculpture, each plant has its own light source, and the plant's cycles have been programmed so that at any given moment when one plant is awake the one diametrically across from it is asleep. The opening and closing of the leaves over time changes for each plant, so that after a period of 8 - 12 hours, the plant that was awake is now asleep and vice versa, thereby generating a time-based cyclic rotation within the sculpture's form.
---
| | |
| --- | --- |
| | Allison Kudla is currently a PhD Candidate at the University of Washington's Center for Digital Arts and Experimental Media (DXARTS). She holds a BFA from the School of The Art Institute of Chicago, 2002. She is interested in using technology in her art to gain greater perspectives on the system in which we exist. She hopes for her art to inspire, develop and question the technology it uses, with the pursuit of utilizing the discipline of Art to create meaningful and present experiences that allow us to understand our selves and our habitats in ways no other forms of human inquiry and development could. In her earlier work, she focused on the variation of interiors by producing real-time video/audio renderings using data sensed within the given space. Her most recent work uses data sensed from natural systems to create hybrid bio-mechanical systems. |
Special Thanks to: Sam Burden and Brian Wolfe for engineering assistance and computer vision development, DXARTS for continued support and fabrication resources, Douglas Ewing of UW's Greenhouse, Russ Noe of UW's M.E. Machine Shop (ILF), and all of my friends and family who have given me their time and energy throughout the development of this piece.
The Search for Luminosity photo courtesy Neil Lukas, 2007