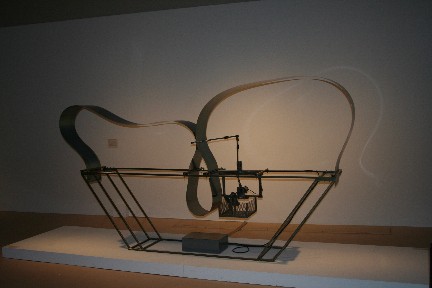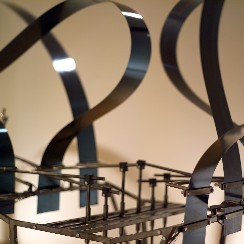 (click for hi-res)
The Storm and 6 Bands
Jack Pavlik
steel, electronics
(The Storm: 2000, 6 Bands: 2003)

The Storm uses one single band of spring steel twenty feet long; that creates sound merely by rocking back and forth as powered by a single motor. The variations in the patterns and the depth of the sounds give viewer the feeling of an oncoming storm.

In 6 Bands, a crank system brings three pairs of rapidly moving bands of spring steel in an undulating repeating flow of movement, causing the bands to come close and almost collide. While the bands move to their lowest point, a sensor detects the position of the bands and a hammer is activated to strike the passing band. This creates a synchronized sounding of the moving metal, and the overall effect is one of a machine erupting from a linear framework of steel, in repeated wave movements that give the work a life of its own.
---
Born 1967, St. Paul, Minnesota U.S.A., B.F.A, University of Minnesota, Minneapolis.

Studied sculpture, collects books, rescues cats, climbs trees. Leaves trail of nuts, bolts, and miscellany wherever he goes.

In sculpture you can have an idea, an exact idea but the final result will come from experimentation and the limits of the material. In this mutual give and take, a transformative process takes place; where there is an evolution of both form and idea. In my work I have been combining flexible and rigid materials, materials that merge a biomorphic, surreal pattern of black shapes and lines, with geometric metal frames and structures that work at the same time to move, and contain the active forms of the piece, creating what I hope is a humorous, surreal form of sculpture.
Jack Pavlik's profile page at Kinetica
Acknowledgements:

Kinetic Museum