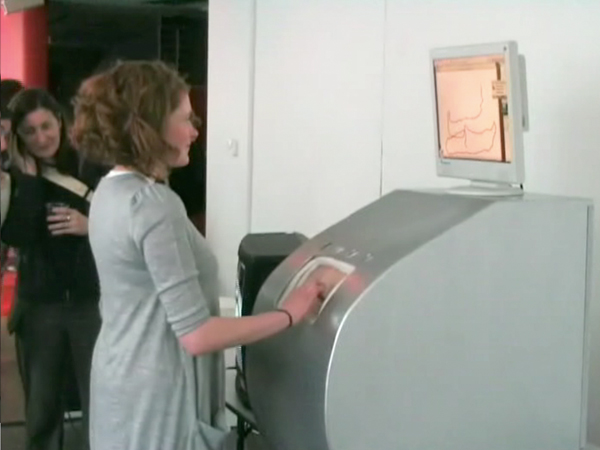 (click for hi-res)
Two Stage Transfer Drawing (Cyberskin)
Joan Healy
synthetic polymer tissue scaffold
bioartificial dermal tissues with inherent vasculature
titanium alloy shell with microprocessor
computer monitor (2007)

Two Stage Transfer Drawing is a recent example of the new generation of artificial intelligence machines that incorporate cutting edge robotics technologies with new advances that have been made in the field of bio-mimetics. As a drawing interface machine, it receives input from a computer touchpad made from artificial human skin, harvested and grown in the laboratories of the Biological Engineering Department of the University of Massachusetts.

The porous cell membrane touchpad is used as a living sensor that receives pressure and translates it into an 8 bit matrix of electrical signals via a hybrid neuromechanical wiring system. An internal CPU is programmed to process the electronic information received from the matrix and display the coordinates as a drawing on the monitor screen.

It is a cybernetic organism, or "cyborg" as is known in science fiction. Thus, the performance of the machine depends upon its health and respiration rate. An hourly maintenance procedure is necessary to ensure optimal metabolism levels for the machine.
---
| | |
| --- | --- |
| | I am a world-renowned leader in tissue engineering, my research involves the generation of new functional tissue using a combination of living cells and synthetic biodegradable polymer scaffolds. I am especially interested in developing novel physiological measurements in the luminal organs, in particular the epidermal organ. Prior to my current position, I was chairman of the department of biological engineering and a professor of biomechanics and surgery at the University of Massachusetts Medical School, Worcester. I have also been on staff at the UMass Memorial Medical Center in Worcester since 1994. I have published more than 200 journal articles, book chapters and reviews, and abstracts. In addition to my research initiatives, I have also been granted approximately 20 patents in the field of tissue engineering and have more than a dozen pending. I am a member of the American Society of Biomechanics, Massachusetts Society of Bioengineering, and the Association of University Biosensorology. |
Photo courtesy Emma Wade