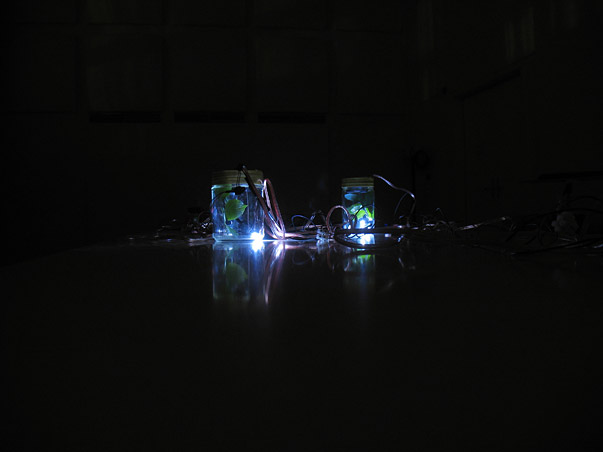 (click for hi-res)
circadia
Paula Matthusen
computer, soundcard, speaker-jars, mics, LEDs, teleo
(2007)

"circadia" is a multi-channel installation that explores how synchronization may emerge amidst various independent bodies. Glass jars with embedded speakers are distributed throughout the room and act as separate bodies. Each vessel produces sounds generated via quiet feedback. In this way, the space and the subtle acoustical effects the audience has on that space create shifting, delicate balances between sustained sounds and small discrete pulses.
---
| | |
| --- | --- |
| | Paula Matthusen is a composer who writes both electroacoustic and acoustic music and realizes sound installations. In addition to writing for a variety of different ensembles, she also collaborates with choreographers and theater companies. Her music has been performed by Alarm Will Sound, International Contemporary Ensemble (ICE), orchest de ereprijs, Ballett Frankfurt, noranewdanceco, Kathryn Woodard, Diesel Lounge Boys, and Jody Redhage. Her work has been performed at numerous venues and festivals in America and Europe, including Merkin Concert Hall, WAX, Judson Dance, Joyce SoHo, the Construction Company, Das TAT, the Aspen Music Festival, Bang on a Can Summer Institute of Music at MassMoCA, Sonorities Festival, Third Practice, the Gaudeamus New Music Week, SEAMUS, NWEAMO, and the Florida Electroacoustic Music Festival. She performs frequently with the electroacoustic duo ouisaudei, Groundwave New Music Collective, Object Collection, the oktoschlocks, and recently winter company. Awards include a Fulbright Grant, ASCAP Morton Gould Young Composers' Award, First Prize in the Young Composers' Meeting Composition Competition, the MacCracken and Langley Ryan Fellowship. Matthusen currently teaches Music Technology at Florida International University. |
http://www.paulamatthusen.com/
Acknowledgements: "circadia" has been developed with the generous support of UNI.K. Ð UdK | Studio für Klangkunst und Klangforschung, the Fulbright Kommission in Berlin, through the NYSCA-sponsored artist residency program at Rensselaer Poltyechnic Institue's iEAR Studios, and the Music Department at New York University-GSAS. Many thanks to Martin Supper, Peter Castine, Elizabeth Hoffman, Pauline Oliveros, Tom O'Doherty, amoebazoid, William Lindsay, and vodstrup for technical assistance and guidance throughout the development of circadia.
circadia photo: Tom O'Doherty