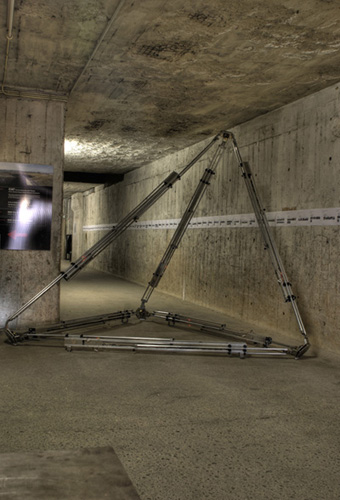 (click for hi-res)
der Zermesser
leo peschta
metal struts, motors, batteries, microcontrollers, sensors,
computer, custom software, wireless network
(2007)

"der Zermesser" is an autonomous, room-filing object whose end in itself is to feel its way around and to articulate the connection between its own form and its surroundings. The basic shape is a regular tetrahedron, capable of changing its propagation in the room by means of attached motors. It can also move freely by tilting and therefore capture space.
---
| | |
| --- | --- |
| | Leo Peschta lives and works in Vienna, Austria. His main interest is the subject of room-reception and room-production and the design of mechanical interfaces between medial worlds. Since 2005 he is member of the artist-group "ZugZwangZukunft". |
der Zermesser photo courtesy http://esel.at