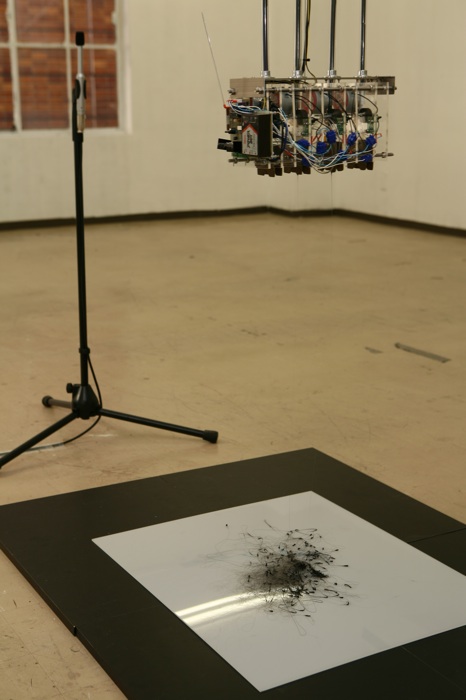 (click for hi-res)
gossamer-1
Koichiro Mori
Canvas, glue, metal, acrylic, electronics
(2006)

"gossamer-1" is a painting installation with the machine that is mounted hot melt adhesives and generates the abstract painting automatically.

"gossamer-1" runs by means of sound around the room. The sound of the room are picked up by a microphone, and analyzed with digital sound processor on a PC. "gossamer-1" is controlled by result of its process.

In this work, painting is not just a visual effect but making a language from what the painter does.

This robot is a simulator of Jackson Pollock and his action painting. Its purpose is to looking Expressionism painting of the 20th century over again.
---
| | |
| --- | --- |
| | Koichiro Mori from Tokyo is a young artist who studies generative art. He makes gadgets and electronic instruments. He perform audio-visual acts with them. He is interested in method-oriented music. He also studies generative image and painting. He is interested in how painters are facing to a picture and objects. And he makes the automatic-painting-machine, and tries to reconsider the creativity of the painter. |