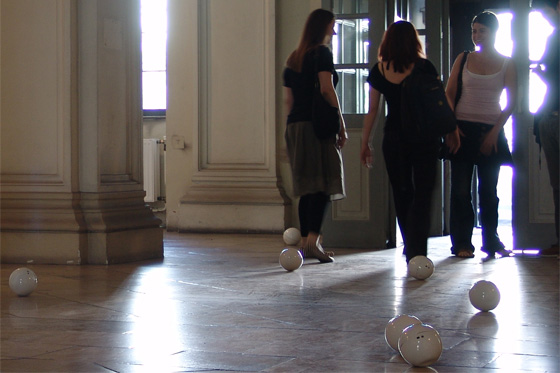 Unrund

self-moving porcelain objects by Korinna Lindinger
Porcelain robots roll through space. The mechanical swinging movements of the motor inside the robots and the irregular porcelain spheres produce patterns of movements and sound. The random movements make the objects seem as if they have a life of their own.
---
Korinna Lindinger, * 1982, lives and works in Vienna.

Studies of Visual and Media Arts at the University of Arts Linz (Herbert Lachmayer) and the University
for Applied Arts Vienna (Peter Weibel, Virgil Widrich, Thomas Fürstner, Ruth Schnell). Diploma with 
Distinction 2009. Studies of Sociology in Vienna and Istanbul.

Her work has been awared with Salzburger Landespreis für Medienkunst, Preis des Otto Prutscher Fonds 
(2009), Alois Mock Förderpreis (2007) and Fred-Adlmüller Stipendium (2006) and she is guest artist
2011 of the WUK studio 'Fine Arts'.
www.annirok.net