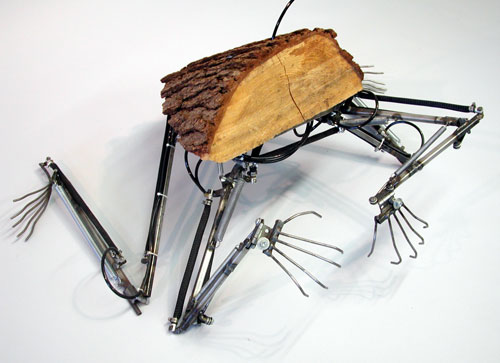 Bionic Log
William Tremblay
Wood, steel, vinyl, latex, nylon, electronics
(2003)

Bionic Log is a pneumatic robotic sculpture built around a section of tree trunk. Inside the log is a bank of pneumatic valves driven by a simple microcontroller program. These valves permit the flow of compressed air to the actuators in the limbs of the robot, which contract in a manner very similar to animal muscles. Although the control mechanism is simple, the resulting motions are very recognizable as human gestures, albeit the gestures of a confused or wounded person. Bionic Log is an extrapolated collision of the conflicting human imperatives of expediency and sentimentality, at once supporting and disproving the comforting notion that technology can solve any problem.
---
William Tremblay is an artist and interactive media programmer. His work addresses issues of human interaction with the technological world: the choices we make and the prices we pay. He tends to create machines and large scale installations. His work has been shown in numerous venues, among them the Kitchen in New York, Boston's Computer Museum, the List Center for Visual Arts at MIT, the Institute for Contemporary Art in Boston, The Boston Center for the Arts and First Night Boston. He is co-inventor of the Virtual Reality Chair, for which he holds a patent. He attended the Studio for Interrelated Media at the Massachusetts College of Art, and is the proud owner of a Bridgeport milling machine, which he used to make custom parts for the bionic log. He lives in Boston where he opportunistically employs robotics, video and other technologies in ways they were never intended to be used.
Acknowledgements: Photo credit: Rob Gonsalves & Georgina Lewis