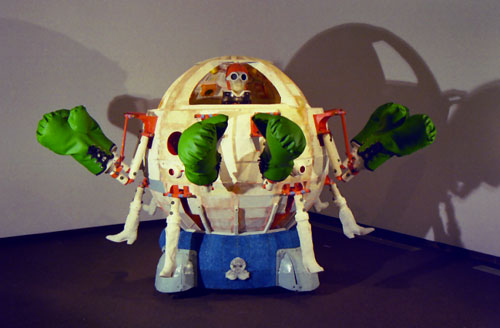 Self Preservation Machine
Aaron Arendt
Metal, wood, plastic, fabric, cowboy boots
(2001)

The Self Preservation Machine is mankind's last line of defense against the ever increasing dangers of the modern world. Ride comfortably inside its padded interior, hermetically sealed from the world around you. The S.P.M.'s thick exoskeleton, robust punching arms and swift kicking legs will protect you from the aggressive attack of any man, woman, animal, natural disaster, or other* harmful attack that you can think of.

*Has not been tested to withstand a nuclear blast, but in theory, it should work.
---
Aaron Arendt is a graduate of the MFA program at the University of Minnesota, Where he studied kinetic sculpture. He currently lives and works in Los Angeles, CA. He makes sculptures and short films about experimental machines, vehicles, and weapons that are designed to make the world a "safer" place.