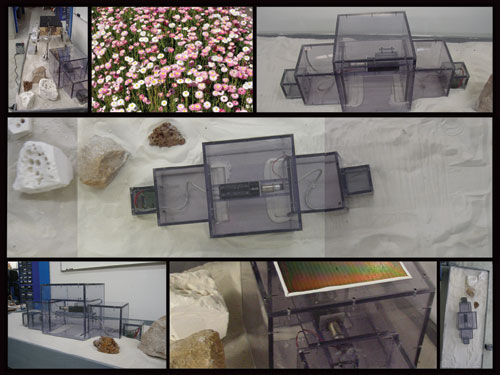 Wildflower Meadow Glacier
James Powderly,Michelle Kempner, Tom Kennedy, Todd Polenberg, Brendan Fitzgerald, Paul Bartlett
polycarbonate plastic, steel, aluminum, custom electronics and mechanisms, motors and other actuators, solar panels, code and flora
(2004)

The Wildflower Meadow Glacier One (WMG1) is an autonomous robot and sculpture that manifests the metaphor of a glacier. It is named after the Wildflower Meadow in Central Park's North Woods, where we propose to ultimately install the final generation of this large-scale public sculpture. The robot, a series of five translucent cubes, will move at an imperceptibly slow rate, in a manner similar to an inchworm, and record carbon dioxide levels in the local atmosphere. The WMG1 will then document this environmental data by planting varying patterns and species of flora in the abraided earth left in its wake.

This first prototype of the WMG is 50 inches in length and over one foot tall. It will be designed to operate autonomously, on solar power, for one month moving at a rate of 1.6 inches per day. We intend the final iteration of the glacier to be over 10 feet tall, 40 feet long and built to last 100 years.

As an artistic piece, the WMG forces us to re-imagine, both beautifully and tragically, our relationship with nature, technology and time. The WMG's operational timescale forces a shift in our perspective and focus. It allows us to see our relationship with the natural world diachronically, beyond the scale of our individual life, thus forcing us to become aware of our own mortality and the mortality of the human race as a consequence of global warming. The floral output left in the trail of the WMG suggests both whimsy and loss, echoing a variation of the Catholic-Mestizos tradition of Flores para los Muertos. The Wildflower Meadow Glacier will be a testament to man's ability to make the impossible possible, to harness both nature's metaphors and power. Yet, it is implicit that the robot is dragging itself, painfully slowly, toward a future that will not include humankind.
---
James Powderly is a roboticist and artist working in the field of artificially intelligent art. James studied at New York University's Tisch School of the Arts and the Courant Institute of Mathematical Sciences, receiving his Master's Degree in digital arts from the Interactive Telecommunications Program in 2002. Prior to moving to NYC, he completed his undergraduate studies in music composition and theory at the University of Tennessee. James has had collaborations with artists and engineers exhibited at the Whitney Museum, the MOMA Queens, PS1, and the Sculpture Center. This work has been featured on NPR and the New York Times. He is a member of Eyebeam's Creative Technology R&D Goup and co-founder of the NYC chapter of the Robotics Society of America. James frequently collaborates with his wife, artist/programmer Michelle Kempner.
James is currently working in Technology Development at Honeybee Robotics, an aerospace robotics company located in lower Manhattan. His project contributions include work on the science team for the 2003 Mars Exploration Rover's Rock Abrasion Tool and a collaboration with Diller + Scofido on a robotic drill named "Mural", featured in their mid-career retrospective at the Whitney Museum of American Art.
Michelle Kempner is a software developer with experience in object-oriented programming languages and relational database design. Michelle received a Master's Degree in Interactive Telecommunications from NYU where she focused on programming and physical computing. Previous projects include real-time video effects rendering in Java, musical MIDI gloves and a networked computer vision installation. Currently, she is collaborating with her husband James Powderly on everything they can think of.
Acknowledgements: We would like to acknowledge Honeybee Robotics, Ltd. and Eyebeam's Creative Technology R&D group for design and software consultation, as well as the use of lab facilities and resources.